"There's a problem with the perception of procurement. If you ask a non-procurement person 'what does procurement bring to the party?', they'll say things like cost savings, rationalising of suppliers..."
In a recent talk by our Sales and Marketing Director, Andy Buchanan, at the CIPS UK Conference 2019, he looked at how procurement professionals can take a seat at the top table, taking into account digital transformation and the key drivers behind it.
Watch the video of the CIPS talk to learn about: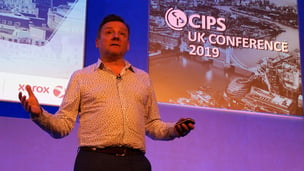 - The perception of procurement
- Why the perceptions of procurement exist
- Key procurement drivers
- Key drivers of digital transformation
- Example of digital transformation projects
- 5 Top tips for procurement professionals
- Practical next steps
Fill in the form to watch the event video and download the talk presentation.