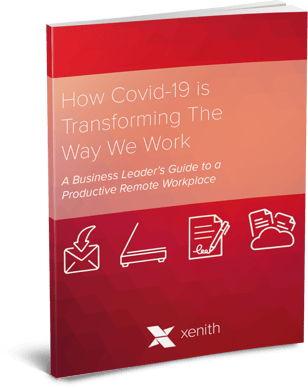 A Business Leader's Guide to a Productive Remote Workplace
The Covid-19 pandemic is bringing to light a huge number of business continuity issues - but also presents opportunities to transform and strengthen the way we work.
This guide will help business leaders to balance the need to re-think some business processes with the need to reduce costs and make the end-user more productive:
7 points to bear in mind for any IT investments during the pandemic.
A cheap & easy way to get the hardware you need for remote working.
How to take advantage of the lock-down to shift your company to digital workflows (includes checklist).
How to increase productivity with a Content Management Platform (includes checklist).
How to set up a Digital Mailroom during Coronavirus (includes checklist).
How to scan directly into line-of-business systems during the lock-down.
The role of 'Intelligent Automation' and other innovations in the path ahead.
Fill in the form to download the guide.