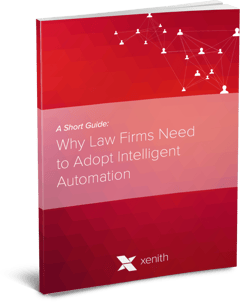 With the Covid-19 outbreak forcing organisations in every industry to rethink their business models, law firms and the legal industry have a lot to learn from the bizarre events that held the UK and many parts of the world to ransom for the best part of 2020, and likely beyond.

The winners will be those that manage to grapple with digital transformation and the digitalisation of their processes through automation and well-optimised processes. The losers will be those that can't shift from the previously paper-intensive, face-to-face meeting reliant processes that hold them back.

With this in mind, we've put together a short guide that looks at five keys areas that Intelligent Automation is taking shape. Fill in the form to download the guide.